The Genius of Birds
The Genius of Birds (Penguin Press, 2016; Penguin Paperbacks 2017). New York TImes bestseller. Named one of the 10 best nonfiction books of 2016 by the Wall Street Journal, a "best book of the year" by The Spectator, a "nature book of the year" by the London Sunday Times, and a "best science book of 2016" by Science Friday. Published in 20 languages, including French, German, Polish, Spanish, Italian, Swedish, Norwegian, Dutch, Finnish, Czech, Estonian, Romanian, Lithuanian, Korean, Chinese, Japanese, and Taiwanese Mandarin.
"A gloriously provocative and highly entertaining book... Ackerman provides a masterly survey of a research in the last two decades that has produced a revolution in our understanding of bird cognition... Her determination to trawl for the very latest research makes 'The Genius of Birds' important not only for what it says about birds, but also about the human ingenuity entailed in unraveling the mysteries of the avian brain. It is at once a book of knowledge, but also a work of wonder and an affirmation of the astonishing complexity of our world." --The Wall Street Journal, April 22, 2016. (read more)
"A lovely, celebratory survey ... elevated by Ackerman's prose--the joy she takes in thinking and noticing ... Often, you feel her wonderment, faintly recognizing another, strange intelligence covertly operating in a world we presume to be ours." The New York Times, May 1, 2016 (read more)
"Ackerman writes with a light but assured touch, her prose rich in fact but economical in delivering it. Fans of birds in all their diversity will want to read this one." Kirkus Reviews, February 2016
"Ackerman not only tells the story of the recently uncovered genius of birds but also delves deeply into the latest findings about the bird brain itself that are revolutionizing our view of what it means to be intelligent." --Library Journal February 11, 2016
"Ackerman offers plenty of interesting tidbits and backs them up with the relevant history or science... This is one of those terrific books that makes a scientific topic fun without dumbing it down." --Washington Independent Review of Books
Buy at: Local Bookseller Barnes and Noble Amazon
Read an excerpt.
For a podcast on The Genius of Birds, created at the Aspen Ideas Festival this June by Flora Lichtman of "Every Little Thing", click here.
Listen to NPR interview April 12, 2016, with "On Point".
Listen to WYNC interview June 3, 2016.
Listen to "Talkin' Birds" interview with Ray Brown, May 22.
Listen to "The Book Club" interview with Sky Kirkham at 4ZZZ FM in Australia.
Read Q & A with Scientific American Mind.
Read interview with Audubon.
Read excerpt in Smithsonian.
If you were to divide the animal world into the smart and the not-so-smart, you might put birds squarely in the 'dim bulb' category. For decades, people have written off birds as largely witless, driven solely by instinct, and their brains as primitive, capable of only the simplest mental processes. But it is not so. In recent years, science has discovered that birds are much, much more intelligent than we ever supposed, capable of abstract thinking, problem-solving, remembering, learning by example (as children do), recognizing faces, even conversing in a meaningful way—all with a packet of brain so tiny it would fit inside a walnut. These tiny brains, it turns out, are mostly made of sophisticated information processing systems that work in much the same way as our own cerebral cortex. (Apparently there are more ways than one to wire an intelligent brain.) Ravens, crows, even hummingbirds do things that are just plain smart—and funny and sneaky and deceitful. They craft and use tools, sing to one another in regional accents, make complex navigational decisions without asking for directions, remember where they put things using intricate geometrical concepts, understand the mental state of another individual, josh around with windshield wipers, and use rolling car tires to crack walnuts, all sorts of intelligent behavior that we can see in evidence in our own backyards, at our birdfeeders, in parks, city streets, and country skies.
This book explores the new view of birds as 'thinkers'—cunning, playful, witty, greedy, cranky, joyful, competitive. It looks at the intelligence of birds within the context of easily observed behavior in our own surroundings (including my own) and brings to it the latest science from lab and field.
Written in a lighthearted but highly informative style, with lyrical and entertaining descriptions of birds, their behavior, and their world, the book is packed with interesting new science that will appeal to a broad range of readers, including sophisticated bird lovers, nature enthusiasts, and anyone interested in the brain or animal behavior.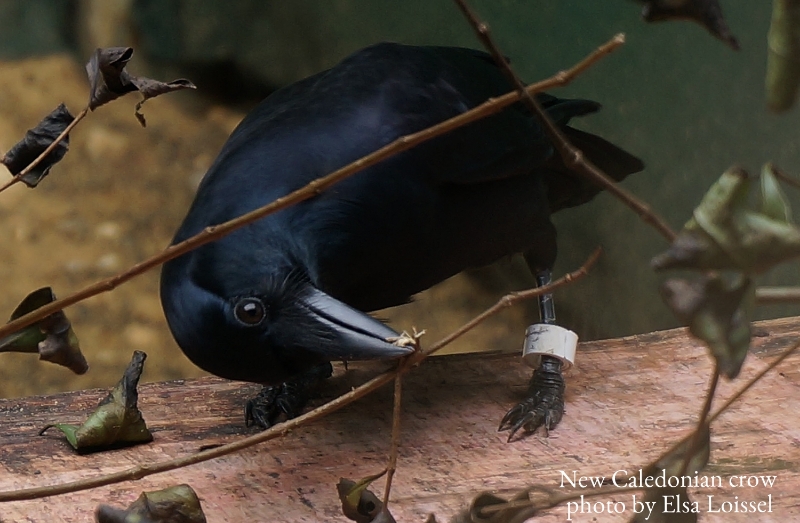 New Caledonian Crow by Elsa Loissel
"Throckmorton" by Karin Bendel