The Genius of Birds
The Genius of Birds (Penguin Press, 2016; Penguin Paperbacks 2017). New York TImes bestseller. Named one of the 10 best nonfiction books of 2016 by the Wall Street Journal, a "best book of the year" by The Spectator, a "nature book of the year" by the London Sunday Times, and a "best science book of 2016" by Science Friday. Published in 20 languages, including French, German, Polish, Spanish, Italian, Swedish, Norwegian, Dutch, Finnish, Czech, Estonian, Romanian, Lithuanian, Korean, Chinese, Japanese, and Taiwanese Mandarin.
"A gloriously provocative and highly entertaining book... Ackerman provides a masterly survey of a research in the last two decades that has produced a revolution in our understanding of bird cognition... Her determination to trawl for the very latest research makes 'The Genius of Birds' important not only for what it says about birds, but also about the human ingenuity entailed in unraveling the mysteries of the avian brain. It is at once a book of knowledge, but also a work of wonder and an affirmation of the astonishing complexity of our world." --The Wall Street Journal, April 22, 2016. (read more)
"A lovely, celebratory survey ... elevated by Ackerman's prose--the joy she takes in thinking and noticing ... Often, you feel her wonderment, faintly recognizing another, strange intelligence covertly operating in a world we presume to be ours." The New York Times, May 1, 2016 (read more)
"Ackerman writes with a light but assured touch, her prose rich in fact but economical in delivering it. Fans of birds in all their diversity will want to read this one." Kirkus Reviews, February 2016
"Ackerman not only tells the story of the recently uncovered genius of birds but also delves deeply into the latest findings about the bird brain itself that are revolutionizing our view of what it means to be intelligent." --Library Journal February 11, 2016
"Ackerman offers plenty of interesting tidbits and backs them up with the relevant history or science... This is one of those terrific books that makes a scientific topic fun without dumbing it down." --Washington Independent Review of Books
Buy at: Local Bookseller Barnes and Noble Amazon
Read an excerpt.
For a podcast on The Genius of Birds, created at the Aspen Ideas Festival this June by Flora Lichtman of "Every Little Thing", click here.
Listen to NPR interview April 12, 2016, with "On Point".
Listen to WYNC interview June 3, 2016.
Listen to "Talkin' Birds" interview with Ray Brown, May 22.
Listen to "The Book Club" interview with Sky Kirkham at 4ZZZ FM in Australia.
Read Q & A with Scientific American Mind.
Read interview with Audubon.
Read excerpt in Smithsonian.
If you were to divide the animal world into the smart and the not-so-smart, you might put birds squarely in the 'dim bulb' category. For decades, people have written off birds as largely witless, driven solely by instinct, and their brains as primitive, capable of only the simplest mental processes. But it is not so. In recent years, science has discovered that birds are much, much more intelligent than we ever supposed, capable of abstract thinking, problem-solving, remembering, learning by example (as children do), recognizing faces, even conversing in a meaningful way—all with a packet of brain so tiny it would fit inside a walnut. These tiny brains, it turns out, are mostly made of sophisticated information processing systems that work in much the same way as our own cerebral cortex. (Apparently there are more ways than one to wire an intelligent brain.) Ravens, crows, even hummingbirds do things that are just plain smart—and funny and sneaky and deceitful. They craft and use tools, sing to one another in regional accents, make complex navigational decisions without asking for directions, remember where they put things using intricate geometrical concepts, understand the mental state of another individual, josh around with windshield wipers, and use rolling car tires to crack walnuts, all sorts of intelligent behavior that we can see in evidence in our own backyards, at our birdfeeders, in parks, city streets, and country skies.
This book explores the new view of birds as 'thinkers'—cunning, playful, witty, greedy, cranky, joyful, competitive. It looks at the intelligence of birds within the context of easily observed behavior in our own surroundings (including my own) and brings to it the latest science from lab and field.
Written in a lighthearted but highly informative style, with lyrical and entertaining descriptions of birds, their behavior, and their world, the book is packed with interesting new science that will appeal to a broad range of readers, including sophisticated bird lovers, nature enthusiasts, and anyone interested in the brain or animal behavior.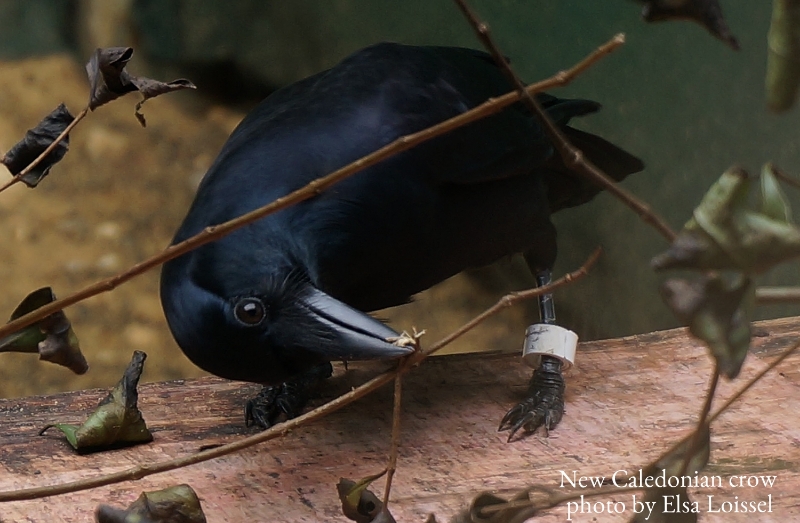 New Caledonian Crow by Elsa Loissel
"Throckmorton" by Karin Bendel
Sex Sleep Eat Drink Dream: A Day in the Life of Your Body
Sex Sleep Eat Drink Dream: A Day in the Life of Your Body (Houghton Mifflin, 2007; Mariner paperback, 2008) ISBN-10: 0618187588; ISBN-10: 0547085605
Foreign editions have been published in 13 languages, including Spanish, German, Korean, Russian, Dutch, Chinese, Japanese, Swedish, and Polish.
Selected as Editors' Choice by The New York Times; New and notable book of scientific interest by Science News; Main selection of the Scientific American Book Club
Reviews:
"An enthusiastic tour through 24 hours in the life of a typical human body. . . .[an] illuminating and hospitable book." —New York Times Book Review
"A readable and remarkably comprehensive tour of all that is new and intriguing in the study of human physiology." — Abigail Zuger, MD, The New York Times "Science Times " (for full review, see below)
"MOST of us are far too busy racing through life to pay much attention to what our bodies are up to. Jennifer Ackerman has paused to take a closer look and charts the journey of your body - an "ark of skin and blood and bones" - as it ferries you through a typical day. Her fascinating story of the body's complex workings and how they are driven by a daily rhythm will inspire even the most workaholic reader to consider tweaking their schedule to account for the best time to exercise, say, or even maximise their alcohol tolerance. An engaging, eloquent and accessible book." — New Scientist
"Meticulously reported and well written" —O Magazine
"Both a fascinating read about our bodies' complexities and a potentially lifesaving resource, this is a dream of a book." —More Magazine
"A unique attempt to describe the science of who we are." —Science News
"An insightful text celebrating just how clever is the machine we call the human body." — Kirkus Reviews
"Offers fascinating insight into the workings of our often inscrutable bodies." —Bookpage (for full review, click here)
Full review from The New York Times:
"Jennifer Ackerman's 'Sex Sleep Eat Drink Dream' is a readable and remarkably comprehensive tour of all that is new and intriguing in the study of normal human physiology. "The body is like an Antarctica," Ms. Ackerman writes, "a continent being opened up, mapped, even transformed."
In the spirit of a continent-hopping tour guide, she hits all the high points of recent research at top speed.
An experienced science writer, she has the sense to hang such a gigantic undertaking on a strict framework: a day in the life of an average person who wakes up (a little before the alarm rings; how do we do that?), sips coffee (why does it taste so good?), drives to work (how does anyone know when to press the brake?) and looks forward to lunch (why do we become hungry?).
The day goes on through the midafternoon slump, the visit to the gym, the after-hours office party (that guy in accounting, what's his name again?) and the tossing and turning of a particularly bad night's sleep.
Readers learn that some people can routinely anticipate their alarm with an internal hormone-fueled clock, that coffee's appeal is actually less in its taste than in its smell, that a drive to work is an exercise in multitasking whose success depends in no small part on an interior "interval timer," another brain clock like an egg timer that accurately estimates when the yellow light is likely to turn red.
A host of new hormones have been discovered to govern appetite and satiety, and while the doldrums that follow lunch are still not completely understood, recent research strongly supports a brief nap to treat them.
As for those social duds at the office party who require endless reintroductions to the same people, they may be suffering from prosopagnosia, the inability to recognize faces, linked to damage in a tiny area of the brain just behind the right ear.
We may think we depend on the sun to measure time, but we actually have so many precise internal clocks adjusting our metabolism from hour to hour that in the future drugs are likely to be dosed at specific times to maximize their efficacy and minimize their side effects.
Ms. Ackerman's small book can give these and many more amazements only the briefest of attention each, but her footnotes are a comprehensive source of further information.
— Abigail Zuger, MD, The New York Times Science Times
Ah-Choo!
Ah-Choo! The Uncommon Life of Your Common Cold (Twelve, 2010)
ISBN-978-0-446-54115-2
On average, we spend five years of our lives suffering from colds. Some are like mice, timid and annoying; others like dragons, accompanied by body aches and deep misery. Ah-Choo! explains just what a cold is, how it works, and whether it's really possible to "fight one off." Scientists call this the Golden Age of the Common Cold for good reason. Americans suffer up to a billion colds each year, resulting in 40 million days of missed work and school and 100 million doctor visits. Also, over the past decade we've learned much more about what cold viruses are, what they do to the human body, and how symptoms can be addressed. This ode to the odious cold sifts through the chatter about treatments—what works, what doesn't, and what can't hurt. It dispels myths, such as susceptibility to colds reflects a weakened immune system. And it tracks current research, including work at the University of Virginia at Charlottesville, a world-renowned center of cold research studies, where the search for a cure continues.
To read Jennifer Ackerman's Op-Ed "How Not to Fight a Cold" in The New York Times, click here.
To see the Ah-Choo! video and learn what works and what doesn't work in preventing and fighting colds, click here.
Reviews:
"The common cold is far from being the stuffy subject one might expect. In the hands of gifted science writer Ackerman, the cold is addressed with dry wit while she covers every detail from soup (chicken, of course) to nuts (folk remedies). Only a science writer can find being intentionally inoculated with a cold virus and sequestered for a weekend entertaining." —Booklist (starred review)
"God Bless You!—and this thoroughly delightful compendium of facts, fiction, and down-to-earth advice about the pesky viruses (200 and counting) that knock you down and drag you out . . . Ackerman parses the variety and durability of the cold, its well known miseries, paradoxes, and myriad mysteries with the thoroughness of a scientist, the doggedness of a journalist, and the verve of a thriller writer." —Publishers Weekly
"Ackerman, who loves to hunt and gather in researching a topic like this, discovered that the common cold served up a tantalizing array of good stories, such as the weird 'cure' endured by Calvin Coolidge (three days in a chlorine chamber). The book is full of interesting facts (you're more likely to catch a cold from a simple handshake than from kissing or getting sneezed on) and busted myths (susceptibility to the cold does not require a weakened immune system) . . . Her little ode to the odious cold will leave readers with an infectious interest in the planet's most common infection—and also, solid knowledge of how to avoid catching these ubiquitous bugs in the first place." —Kirkus Reviews
"Ackerman has a nose for the facts, and she sniffs out plenty of them here, including lots of surprising statistics, disgustingly fun facts, and the results of scientific studies. I like the way she dishes the dirt; in fact, just about every page contains something that will make your rheumy eyes crinkle with glee. I also like that Ackerman coughs up some remedy recipes at the end of this book. Whether you say apchi (Hebrew), apjo (Swedish), hakushon (Japanese) or apchkhi (Russian), you'll enjoy reading "Ah-Choo!". Ask for it by name. And Gesundheit." —Terri Schlichenmeyer, The Bookworm Sez
"Ackerman leaves no germ unturned in her latest investigation . . . Ah-Choo! covers almost everything you need to know about the most irritating virus known to humans . . . From her thorough review of the scientific evidence, combined with extensive interviews with experts in the field, Ackerman expertly guides us through the hoaxes, the placebos and the genuinely effective treatments . . . Ah-Choo! is packed with interesting facts about colds, from how a sneeze sound is pronounced in other languages ("apchi" in Hebrew, "hakushon" in Japanese) to bizarre remedies from the past ("kissing the hairy muzzle of a mouse") . . . She is a gifted storyteller with the ability to simultaneously inform and entertain her readers. This, combined with the fact that on average a person will catch 200 colds in a lifetime (amounting to five years of symptoms and a full year in bed), makes Ah-Choo! relevant and enjoyable bed-side reading." — Winnipeg Free Press

Additional reviews:
Winnipeg Free Press Review
Hamptons.com Review
The New York Post Review
The Washington Post Review

Media coverage:
Interview on NPR's Fresh Air (September 13, 2010)
The New Yorker's The Book Bench Q&A
Time Magazine's Q&A
Salon.com interview
iVillage online slideshow about myths, remedies, and facts from the book
Tablet Magazine's back-to-school round-up
Interview with "It's Your Health"
Radio National interview (Australia)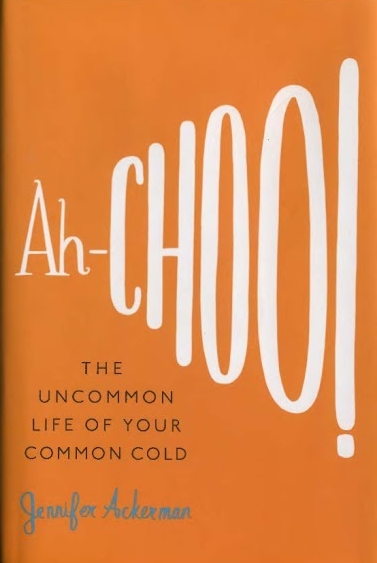 Chance in the House of Fate: A Natural History of Heredity
Chance in the House of Fate (Houghton Mifflin, 2001; Mariner Paperback, 2002) ISBN-13: 004-6442219099 ISBN-10: 0618219099
* Selected as a Library Journal Best Book of the Year, 2001
A natural history of humanity as seen through the lens of our genes and cells, this book explores the ways in which humans are genetically linked to every part of the natural world. The book offers a personal tour through the surprising turns of heredity, informed by the ways genetic inheritance has affected Ackerman's own life. From a younger sister's profound mental retardation and her mother's cancer, to the births of her own healthy daughters, Ackerman reveals her own experiences as telling touchpoints, ultimately illuminating the hidden biological connections among all forms of life."
"Fascinating…tying together the famous and the forgotten, the microscopic and the vast." — New York Times Book Review (click here for full review)
"A poetic view of heredity... a grand literary experiment." — Science
"A beautiful story of the natural world that will inspire and educate."— San Francisco Chronicle
"An amazing look at how we got where we are . . . An ambitious book . . . a beautiful book." — Chicago Tribune
Birds By the Shore
Birds By the Shore (Penguin Books, 2019)
A revised and reissued edition of a book of essays about the natural life at the ocean's edge: the movement, change, and beauty of the seashore and its significance in the wider life of the planet. The book explores the habits of seabirds and shorebirds, the tidal rhythms of the marsh, the myriad creatures that inhabit the mud flats. Edward Hoagland called the book "the alchemy of art with solid science," and the Washington Post, "arresting and provocative, a joy to read."
"Serene and loving, Ackerman's deeply personal take on the world around her constitutes nature writing at its best." --The Philadelphia Inquirer
"Like walking along an ocean beach with a knowledgeable, articulate friend, reading this personalized natural history is a restorative experience." --Publisher's Weekly
"Full of the kind of fascinating detail that makes good nature writing as engaging as any fiction." --Smithsonian